WeChat is much more than a messaging app
With more than 845 million monthly active users in total, including 70 million outside China, WeChat is the n°1 messaging app in China. However, to harness the potential of WeChat, it is critical to fully understand that it is much more than a "Chinese Whatsapp".
Indeed, the Tencent app has a wide and diverse range of features that go far beyond the traditional friends messaging, photos sharing and phone calls. It includes an entire ecosystem of mobile services constantly evolving, allowing for incredible business opportunities while being closed and opaque for non-specialists.
First, the app has put a strong emphasis on gamification components. As an example, the phone shake feature allows you to meet random people across the planet and opens the way to many gamification possibilities (opening "red pockets"…).
Second, WeChat integrates a mobile payment solution –WeChat pay – which expands significantly the financial-related features possibilities of the app. Transferring money to friends, paying bills, ordering online and even paying in physical stores can be done using the WeChat pay service.
Finally, the app is not only made for the general public but also for companies. Businesses can create corporate WeChat accounts – called Official accounts or "OA" – that can be leveraged in many ways (marketing communications, ecommerce, customer service, O2O components…) that will be covered later on in this article. WeChat has more than 10 million OAs today. Readers should note that this article will only cover service accounts capabilities, which is the type of corporate account required to build external services within WeChat and is most commonly used among large brands. For example, 64% of luxury brands have a Service Account.
To facilitate the understanding of the article, readers should bear in mind that WeChat enforces very specific messaging limitations to prevent spamming. Indeed, Broadcast messages are limited to 4 per month per user. Nevertheless, when a follower performs a specific action towards an OA (QR code scan, menu click, message sent), the OA has a 48 hour window to send unlimited messages to this follower. Besides these, OAs also have the ability to tap into the WeChat library of completely standardized templated messages (very transactional, non marketing messages) which can be sent with no limitations.
After this introduction, let's get down to business and describe the 10 ways you should look into WeChat to develop your business with Chinese customers.
Start with the basics
1) QR code strategy
Since your WeChat strategy has to start somewhere, leveraging QR codes to drive followers to your WeChat OA should definitely be one of your top priorities. QR code usage is very common in China and WeChat has built followers acquisitions mechanics and O2O components around QR codes strategies. Thus, QR codes should be displayed in all relevant marketing materials both online (emailing footers, website…) and offline (in-store posters, paper advertising…). By simply scanning the QR code using their WeChat scanner, leads will be prompted to follow your WeChat OA.
Using selected WeChat backend platforms available in the market, OAs are able to trigger specific messages for each WeChat QR code scanned. For example, an in-store QR code at the POS will trigger a specific message upon scanning (immediate offer, leave us a review…) that might be very different than an email footer QR code (store locator, O2O promotion…) depending on what the OA wants to achieve. As a reminder, a QR code scan will open a 48h window during which the OA will be able to send unlimited messages to the follower, hence overcoming the 4 broadcasts per month limitation enforced by WeChat. Thus, QR codes should not be neglected in any WeChat content strategy.
2) Segmented broadcasts
Some WeChat backend platforms allow OAs to send segmented broadcasts based on followers characteristics available in their WeChat profile (gender, age, geolocation…). This first level of segmentation is of course pretty basic, but it remains a good start to implement a bit of personalization into the WeChat channel.
To go much beyond, the ultimate goal will be to reconcile CRM data with the WeChat CRM data and thus leverage the customer data available in the CRM to provide a personalized WeChat experience. CRM binding – which is a way to achieve this – is described later on in this article.
3) Auto-response keywords
Setting up auto-response keywords is an OOTB feature of WeChat OAs. The principle is straightforward : the OA will trigger specific messages based on keywords sent by the follower. If keywords sent do not match any of the pre-set auto response keywords, the OA might send a standard message like "A customer service agent will reply to you shortly".
One typical use case is the famous Hong Kong fashion retailer Lane Crawford's Welcome message.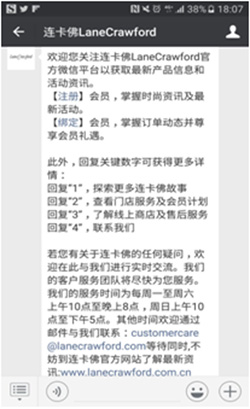 Translation summary :
Thank you for following us – Join our loyalty program
Type 1 to explore Lane Crawford history
Type 2 to discover our new bank affiliation program
Type 3 to know more about our online store
Type 4 to get in touch with Lane Crawford customer service
4) HTML5 Responsive website embedded into WeChat browser
As part of the whole WeChat ecosystem, WeChat also has a browser. If an OA is willing to provide services on WeChat that are already offered on the company's responsive website, the OA has the opportunity to incorporate this responsive website within the WeChat browser in simple HMTL5 pages.
The user experience will not be as smooth and seamless as fully integrating those services within WeChat OA or mini programs (that will be introduced later on in this article). Nevertheless, it can be either a start before shifting progressively towards WeChat integrated features, or simply a cost decision.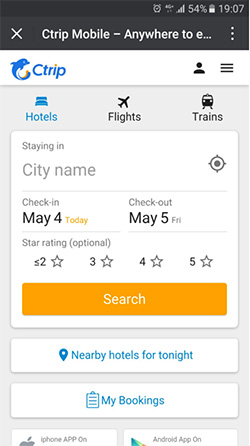 5) Store Locator
Store locators are a WeChat basic for businesses operating offline stores. Indeed, 88% of luxury brands offer a store locator feature in their WeChat OA. Together with such features, providing location-based services will bring significant value to the users – for instance allowing users to find the closest store as well as directions to get there.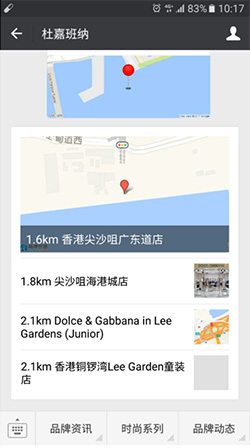 More advanced features
6) WeChat stores
Tapping into your WeChat audience is a great opportunity to drive online sales. To match the essence of WeChat – living platform constantly popping up new features in a hyper changing environment – businesses are looking into innovative ways to implement WeChat commerce features that differ significantly from "traditional" e-commerce. Wechat pop up stores, flash sales, exclusive assortments coupled with exclusive services and gamified experiences have shown successful results when properly implemented, with an outstanding user experience. For instance, last summer Dior sold a limited edition of customizable bags on WeChat for the "Chinese Valentine's day". Users were able to customize bags, order and pay through WeChat.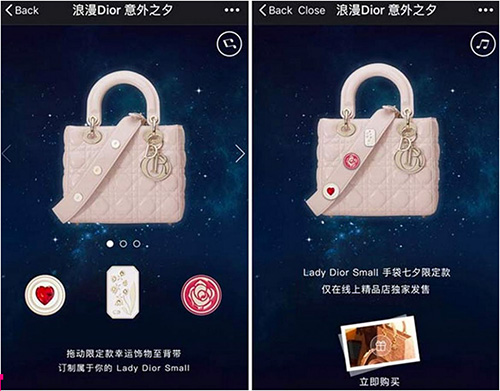 WeChat stores can be achieved in three ways :
Embed e-commerce HTML5 pages in the Wechat browser, while ensuring key optimizations are done (login, payment integration, design optimizations…)
Use a WeChat 3rd party backend platform covering e-commerce functionalities – such as design customization, product catalog, payment (seamless when using WeChat wallets), discounts management – and able to integrate with the existing Information System. This option does not allow for as much customization as the first one.
Develop an e-commerce mini-program
7) CRM binding
For businesses having a loyalty program, loyalty binding consists of asking users to proactively link their personal WeChat account with their Loyalty member profile and thus reconcile WeChat customer data with the CRM data. By doing so, the OA will have the ability to provide a more personalized experience and to capture key customers insights thanks to a 360 view of the customer.
With CRM binding, OAs are able to provide member portal related features: allowing users to update their personal information, view their points and benefits, download a virtual loyalty card… Moreover, OAs will be able to deliver greater levels of personalization leveraging broadcast messages segmentation based on attributes available in the CRM.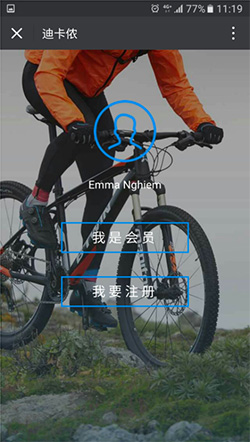 8) E-Coupons
WeChat has a WeChat Wallet where users can store digital loyalty cards or digital coupons that can be used in offline or online stores.
Coupons are visually customizable and can be shared with friends. They allow for various coupon mechanics. They may take different forms, though the typical use case would be to take the form of a QR code alongside with a unique number ID that should be shown at the offline store POS when completing a purchase.
They can be delivered to WeChat users through various mechanisms: blast sent, triggered by a an action by the user (keyword sent, QR code scan or menu click), incorporated into HTML5 pages, nearby ecoupon detection upon phone shaking (using iBeacon technology) and WeChat ads. Integrated with WeChat pay, they allow for a seamless mobile payment experience.
WeChat coupons and digital loyalty cards require change management and complete trainings on the store side to ensure full adoption by the store staff – crucial to ensure the success of this WeChat initiative.
9) Mini programs
Last autumn, Tencent has made a tremendous release: the so-called WeChat Mini programs. These mini programs are apps that do not need to be downloaded and are accessible in a dedicated Mini program section in WeChat. Users can either scan a QR code or use a search function to access Mini programs.
This new service brings many advantages to WeChat users, the first one being to allow users to access app-like functionalities without having to actually download an app, which can be tiresome and takes up internal phone storage.
Mini programs are quite new, successful use cases and best practices are still to be defined. They offer a wide range of possibilities for businesses willing to deliver services alongside a Chinese audience, either for specific one time campaigns or to try different concepts with a test and learn approach before developing a standalone app.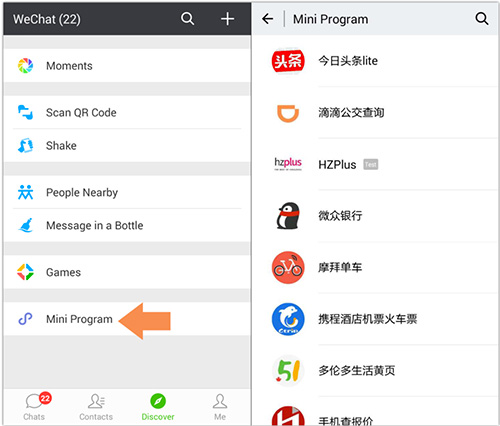 10) Customer Service
Remember, WeChat is also a messaging app. Knowing WeChat is the preferred channel among Chinese customers, setting up a customer service chat in a WeChat OA can make a lot of sense when relevant to your business.
There are many solutions allowing OAs to manage customer service chat related features, such as WeChat CRM, requests routing to agents, content management (pre-set standard responses), agents management and performance dashboards.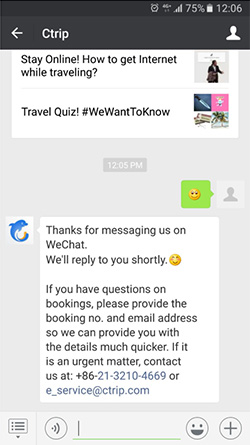 In conclusion, WeChat is no longer a simple communication channel : it is a multipurpose tool powering a variety of services. Fully embracing WeChat capabilities requires a well-thought WeChat-tailored service strategy, beyond traditional social media marketing. Real opportunity for businesses willing to reach and provide mobile services to a Chinese audience, WeChat is an inevitable component of a digital strategy in China.