Adobe announced yesterday its plan to acquire one of e-commerce major players: Magento. The disclosed amount of the deal; 1.68 billion dollars, will probably be adjusted later on but represents a substantial premium for Permira Funds whom purchased it from eBay for 925 million dollars in 2015 (Magento + eBay Enterprise products).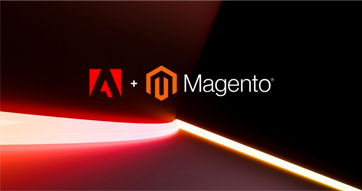 This acquisition should restore a clear strategic direction for Magento, which has long been suffering from changes in its shareholders. Investors whom never really addressed the challenges of omnichannel, and didn't make the essential shift from the monolithic approach that prevailed in the past, towards a breakdown into blocks (PIM, RCU, headless approach, OMS, …). It is also the occasion to put an end to the ambiguous approach for cloud (partnership with Plaform.sh, Acquia's cloud offer, …). On these particular topics, the acquisition is a great news for Magento. Remains the challenge of integrating two very different cultures as well as a network of System Integrator pro Open Source.
As for Adobe, it was about time…! By remaining still, Adobe had been trapped into the back seat, and was lagging behind the leaders of digital platforms (SAP, Oracle and Salesforce). Their last critical acquisition was the purchase of the campaign management platform Neolane in 2013. Neolane undoubtedly helped Adobe to lead the way in the race between Customer eXperience Management platforms. This acquisition helped Adobe to remain one of the favorite software of marketing departments. Downside is that it remained silo in the Digital Marketing space. Adobe barely anticipated the full digitization of companies, which relies on 3-layers:
front "touchpoints" applications
connected to transversal (and often headless) services supported by…
data referentials (PIM, CDP or even MDM) enabling centralisation of data and an efficient governance
This acquisition of Magento, a key player across B2C and B2B on the first 2 layers, with strong foundations (along with investments in a customer data platform, a pillar of the 3rd layer) brings Adobe back in first league.
As a first reaction, I see many winners in this acquisition:
Clients looking for a global player (e-Commerce, Marketing Campaign and the 3-letters group: CDP, OMS, CMS, DAM, PIM, …) who will have an alternative to SAP, Oracle and Salesforce
The specialists (Proximis, Oro, Solusquare, Spryker, Commerce Tools, …) who will benefit from the way opened by Magento 1 "best of breed" re-platforming
Permira Funds (+90% in less than 4 years)
The integrators covering the entire omnichannel chain (if you know what I mean ;))
And a few will lose:
Global players that face a new competitor… Especially Salesforce whom will suffer from benchmarks with Adobe in the digital marketing departments
The smaller editors who had established partnerships with Magento (such as Platform.sh)
The pure Open Source integrators whose positioning is becoming outdated
The few clients who had been following the Magento offer expansion towards Business Intelligence, Cloud Magento offer and who will have to migrate eventually
Finally, we will remember that this union occurred 3 days after Meghan and Prince Harry's royal wedding. A good omen ?