Akeneo, the French vendor of the eponymous PIM solution, held its major annual event on February 6 and 7, bringing together many customers, partners and integrators.
The agenda included feedback and statistics on solution usage, customer experience feedback, the introduction of new features and strategic directions for the future.
Clever Age, an Akeneo integrator alongside other PIM solutions, was naturally in attendance with its sharp, independent eye.
Feedback
This event was an opportunity for the Nantes-based vendor to share some insights on their tools.
With regard to the versions in use, it seems that an effort has been made with the latest releases to simplify upgrades (which were rather painful with versions 1.x), since a significant 55 percent of the PIM solution users have upgraded to version 2.3.
In terms of data volumes, studies conducted on the monitoring interface that was added in version 2.3 have revealed a number of interesting statistics :
80 percent of catalogs contain fewer than 180,000 products, with a maximum of 2.5 million

80 percent of catalogs are based on models using up to 580 attributes, with a maximum of 15,000
80 percent of catalogs have up to 2,300 categories

80 percent of catalogs offer fewer than 9 locales, with a maximum of 60
Announcements
In an effort to provide services not only within the PIM system but also around it, Akeneo now breaks down its offering into 3 tools: the original Akeneo PIM application, the Onboarder, and Franklin.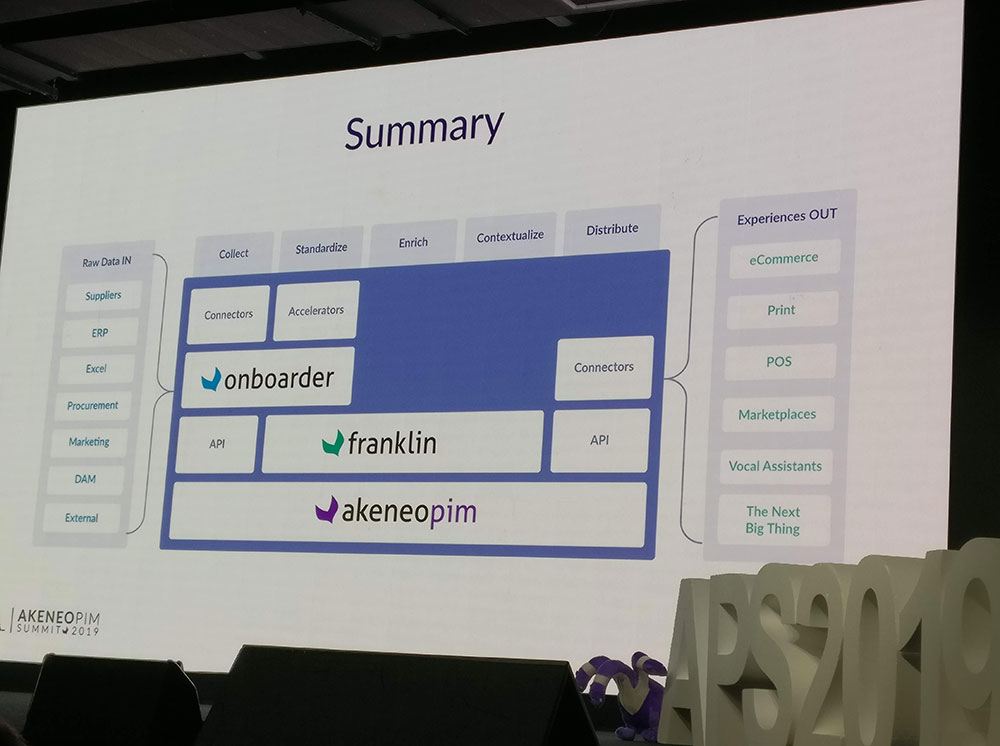 Akeneo PIM 3.0
The eagerly awaited new major version was unveiled and is now available, effective February 7, 2019.
This time, no radical overhaul, as had been the case with version 2.0 in terms of technology and design. The vendor focused on several key areas.
Reference Entities
In my opinion, this is the most exciting new feature, because it addresses a real need and makes up for a major shortcoming of the previous versions: the management of external references. This makes it possible, for example, to manage lists of brands, suppliers, colors, etc., and thereby consolidate these details so that they can be reused across multiple product instances.
Previously we could use the Custom Entities bundle along with some custom development, but it is now possible, through simple configuration, to manage a variety of objects natively, each with their own template and directly linkable to products. These objects can in turn be linked to other objects, they have their own completeness scores and they can be manipulated via the API.
Existing product configuration has not been capitalized on and the Reference Entities do not use the same logic as what is standard for the products. There is a lack of functionality, and some features that are yet to be implemented should be included in the next versions :
Adding new attribute types
Using assets from the PAM
Categorizing these objects
The ability to list products referencing an object
Visibility on the completeness of an object from a product page (the completeness of a product is not currently affected by the completeness of linked objects)
Proposal / validation mechanism
The ability to use the Teamwork Assistant with entities to create projects for the person(s) in charge of these reference entities.
Reference Entities are only available in the Enterprise Edition.
Single Sign-On
The addition of a PIM solution to an information system means that users will need to manage yet another account with separate login credentials. So when the IS provides an SSO feature, the ability to use it with the new application and to let it handle account management is a major benefit. It makes life easier for the administrator, more seamless for users, and more secure for everyone.
This is now possible as of version 3.0, which implements SSO based on the SAML 2.0 protocol, making it possible to connect to enterprise directories such as Azure Active Directory, Google Suite, etc.
SSO is only available in the Enterprise Edition.
Performance
Since a picture is worth a thousand words, here are a few metrics highlighting the efforts made in terms of performance in version 3.0 :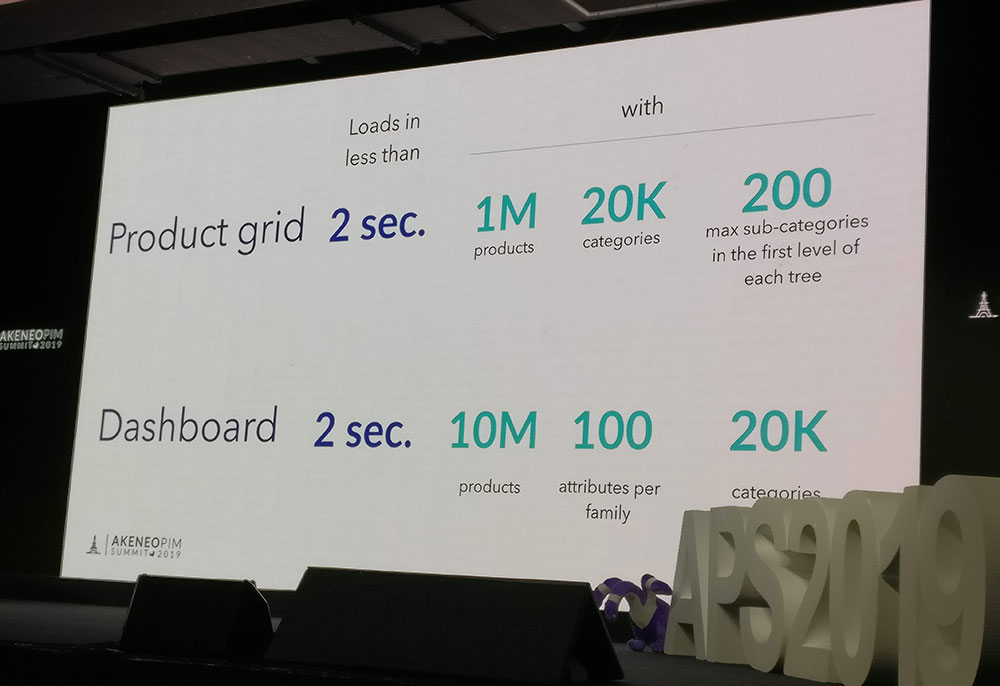 Product Asset Manager
Unfortunately, this new release does not include any updates to asset management. Possibilities remain limited (it is not yet possible to manage asset modeling, or at least to add attributes without resorting to custom development), but Akeneo's position has always been clear: its solution is presented as a PAM that addresses simple needs and can be connected to full-fledged DAM solutions. In fact, improved connectivity with these solutions is expected in future releases.
Onboarder
The Onboarder, which was introduced last year, is a component that operates ahead of the PIM system and serves as a portal to collect product information from multiple suppliers.
The application offers two different access profiles :
one for suppliers, who will be able to create products and enrich them within the framework defined by retailers
one for retailers, who will be able to manage their suppliers, define their scope of involvement and accept or reject new products proposed by these suppliers.
Once accepted by a retailer, the new data will enrich product data in the PIM system.
This tool can be very useful to let suppliers enrich a product catalog when they are not connected to the GDSN network or do not have the means to offer a technical interface that facilitates the integration of their data.
At this stage, the solution is still slightly limited in terms of functionality, and the fact that it is available only in SaaS mode makes it impossible to extend it through custom development. But the announced roadmap is very promising :
Exposure of an API
Multi-language management
Multi-supplier management (on a per product basis)
Proposal / validation mechanism for supplier actions
Management of Onboarder-specific modeling to differentiate from PIM modeling
GS1 Compatibility: briefly announced and without much detail, more information is yet to be provided on this topic, which could be of interest to players in the world of CPG (Consumer Packaged Goods)
Franklin
The acquisition of Israeli company Sigmento last year is now materializing as a new service within the Akeneo ecosystem, in the form of a little robot called Franklin.
Credit : https://twitter.com/vancauterr/status/1093096847248420864
The solution is based on Artificial Intelligence and Machine Learning mechanisms and aggregates technical data about products from multiple data sources.
The service can be used in two ways :
AskFranklin : a standalone "Knowledge as a Service" solution, subscription-based and accessible via an API
Franklin Insights : a service integrated directly into Akeneo PIM that provides suggestions for enriching product data in the catalog
This service can be helpful for retailers who wish to automatically enrich their product catalog on a very large scale. It competes with external product enrichment processes such as catalog aggregators like CNet or Icecat, or even databases like OpenFoodFacts. It is currently limited to technical data (no media) and to certain fields, languages and regions, which should be extended in the near future.
Product eXperience Management
The theme of this event, "The Experience Renaissance", made it clear: the publisher wants to focus on the experience and move towards a PXM solution.
Product eXperience Management seeks to extend the capabilities of PIM systems to provide product analytics, to customize and contextualize product data, and to automate and optimize catalogs with the help of Machine Learning and Artificial Intelligence (the acquisition of Sigmento is an integral part of this strategy).
Source : https://blogs.gartner.com/simon-walker/2018/08/09/from-pim-to-pxm-the-evolution-of-product-information-management/
In more practical terms, as Joe Pine explained, the difference between PIM and PXM can be seen as PIM being the "What" and PXM being the "How":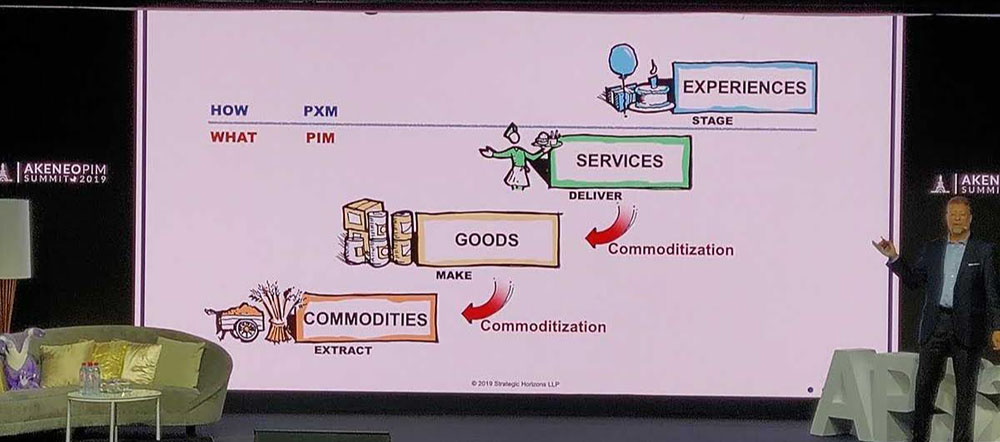 Credit : Joe Pine / https://twitter.com/akeneopim/status/1093091713697177600
Conclusion
Akeneo has decided to move towards a PXM solution like Salsify or Censhare, at the risk of falling behind even further in terms of DAM and MDM positioning.
As mentioned earlier, release 3.0 does not bring any improvements to the PAM. While the main objective here is not to compete with full-fledged DAM solutions, the tool is really quite close to being able to meet many of our customers' needs.
The introduction of Reference Entities is a significant step forward that will address a major shortcoming of the solution and put it back on track on MDM topics and for complex product modeling needs based on multiple linked objects.
During these two days, we observed once again that one of the vendor's key strengths is its team, which is highly dedicated and always attentive to customer and integrator feedback in order to define the solution's roadmap. Even though no release date was announced for the upcoming 3.x versions, Clever Age will stay tuned and is eager to see what happens next.