Today, close to half of the companies have adopted marketing automation((Ultimate Marketing Automation statistics overview – Email Monday ↩)). From its early days six years ago, it has now become a pillar of any digital marketing strategy.
In a nutshell, marketing automation consists in streamlining complex lifecycle programs across channels in order to achieve marketing objectives such as customer conversion, engagement and retention.
Considering automated emails drive more than 6 times more conversions than blast emails, marketing automation has now become vital for companies willing to take a slice of the ecommerce market pie.
A complete marketing automation strategy and vision would include the orchestration of different channels and touchpoints. Nevertheless, the email remains the second channel generating online sales conversion after organic traffic. For this reason, this article will focus on the email channel which is still dominating the ecommerce industry in most countries – excluding China – and will remain a vital ecommerce driver in the coming years.
We had a look at the top e-retailers email marketing automation strategies, from pure players (Asos, Zalora, Net a Porter, etc.) to traditional retailers that successfully caught the e-commerce wave (Topshop, Lululemon, Sephora, Nordstrom, etc.) and provided examples of what they do best.
Differentiation strategies in marketing automation
We identified two major differentiating elements in ecommerce marketing automation strategies.
Marketing pressure: aggressive vs limited
Defining the right marketing pressure is key to achieve a successful marketing automation strategy. Ideally, the marketing pressure should be handled separately for each lead through scoring mechanisms to set the right pressure for each individual, nevertheless every company should still have an overall strategy regarding pressure management.
First of all, the marketing pressure has to be aligned with the company's brand positioning. For a luxury retailer, an aggressive marketing might alter the website's image and lead to unsubscriptions. The automations marketing pressure should also be tied to the customer journey and associated marketing objectives. A business selling products or services that require a long decision process will prefer a well balanced content strategy over an aggressive start with daily promotional emails.
For instance, Lululemon has a relatively slow email marketing pace – three emails per week – as its objective is to educate its customers about its products rather than achieving immediate sales. On the opposite, Zalora sends by default nearly unlimited emails to its new subscribers. It can reach up to four emails per day ! Welcome flow, cart abandonment, browsing abandonment are all triggered with no limitations. It can seem a bit extreme but has proved successful for Zalora's specific business model. Asos and Topshop have gone a middle way, with three to six emails per week depending on the customer's activity on the website.
Promotions-driven vs value-driven
To achieve their online sales goals, e-retailers arbitrate between investing heavily in promotions and creating non-financial value for their customers (curated content, exclusive assortment, events…).
On one hand, pure players like Zalora, Missguided and Assos invest heavily in promotions or discounts along the customer journey to achieve their marketing objectives. App download, survey completion, cart abandonment recovery, customer data capture are goals that can be reached more easily with financial incentives for the customers. The obvious risk is to erode margins or spend too much on low-potential customers (lead scoring capabilities help here).
On the other hand, "click and mortar" businesses such as Lululemon, Sephora and Nordstrom distance themselves from a promotion-driven customer journey. Instead, they create non-financial value for their customers: curated magazine content, tips, exclusive events and services, exclusive news, educational content, loyalty rewards.
Learn from the best
Let's have a look at some email automation flows from the best e-retailers at critical stages of the customer journey.
Welcome
Lululemon (US)

The welcome email flow is the most important of a marketing automation strategy. As they say: first impression, last impression. A welcome series generates up to 23% more ecommerce conversions than a single welcome email. Moreover, welcome emails have open rates 4 times higher and click rates 5 times higher than a random promotional email. Thus, this automated flow is a great opportunity to convey all the company's key messages (value proposition, social media and app promotion, etc.) and convert a digital lead into an online customer.
The famous sports gear retailer Lululemon has set up a simple and efficient welcome flow for leads signing up to an online account. It starts with a first account confirmation email immediately after signup. The second email promotes Lululemon mobile app, store finder and social media accounts. Finally, the last email shows the different product categories available in Lululemon online store.
Unlike Lululemon, most e-retailers offer special welcome promotions as part of their welcome series. Indeed, it is true for Topshop (10% discount), Gap (25% discount), Zalora (100 HKD ~ 13 USD discount) and Asos (10% discount).
Cart abandonment
Zalora (Hong Kong)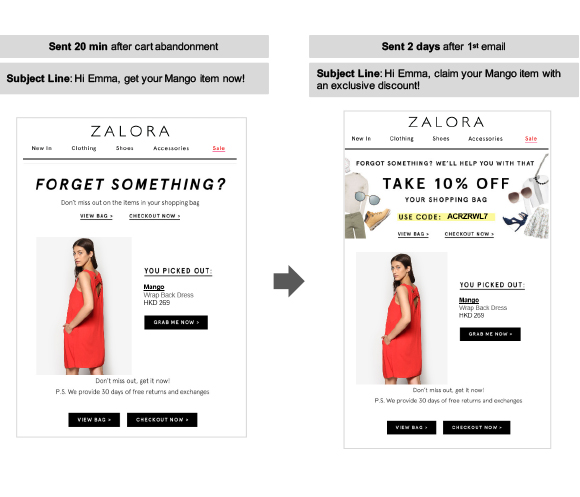 Cart and browsing abandonment are marketing automation classics. Most studies show that a cart abandonment email should be triggered within 1 hour after abandonment. Nevertheless, bear in mind that the right lead time will vary depending on each business specificities.
In our example, Zalora sends a first reminder email 20 minutes after the cart abandonment. This email is followed by an exclusive discount two days later. This promotion-focused approach might not be relevant for any business and in all scenarios (note that Zalora's example was for a new lead who had never made a purchase). It might however be leveraged in some specific customer journey stages: new subscription, churn, etc.
Cart and browsing abandonment are not necessarily promotion-driven. In fact, most of the time, they take the form of a simple appealing reminder, along with relevant products recommendations.
Nordstrom (US)
Post purchase
Asos (Hong Kong)

Post purchase automations are a recommended way to drive the next purchase and capture customer's feedbacks on their overall shopping experience.
Asos starts with an appealing product recommendations email ("Perfect picks to match your buy"), followed by a post purchase survey. Customers receive an immediate 10% discount upon survey completion. Also note that Asos starts the post purchase automations 3 days after the target delivery date, to prevent the risk of sending these emails to customers who have not received their purchase yet.
Reactivation
American Apparel (US)
Reactivation automations are aimed to prevent churn. Investing in this type of email automation is key as these emails are sent in a moment of danger for an ecommerce website and its customers.
Reactivation emails can be triggered by different variables:
Email inactivity: customer has not opened an email for a given period of time – it might be time to clean up your email database
Browsing inactivity: customer has not logged in his personal account for a given period of time
Purchase inactivity: customer has not purchased for a given period of time
Inactivity scoring combining a large set of variables
From a content standpoint, reactivation emails are often:
Humoristic: "We need to talk. We used to be solemates and now you don't even browse anymore" – Missguided
Promotion-driven: "We're better together. Come back and save 30% off" – Reebok
Contextual Marketing (Weather targeting)
Zalora (Hong Kong)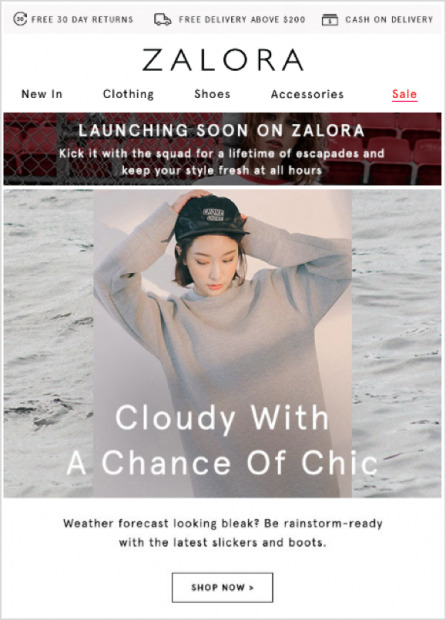 Contextual marketing consists in pushing relevant messages to a customer depending on the context where the customer is expected to read this message. It may vary depending on the weather, customer geolocation, device used, etc.
More specifically, we are showing here an example of a Zalora weather-targeted email. Considering customers purchase more online when the weather is poor, Zalora has seen a golden opportunity to accentuate marketing efforts during rainy days. The famous Asian fashion ecommerce site pre-sets a pool of "bad weather" marketing emails that are triggered based on weather forecasts. Big typhoon in Hong Kong ? Zalora makes a special "Storm Sale". Thunderstorm ahead ? Let's be "Cloudy with a chance of chic".
What next ?
Think omnichannel
As mentioned in the introduction, the email should be part of a broader omnichannel automation strategy that leverages all customer touchpoints – digital, offline and in-store. This year the major trend is towards leveraging group messaging apps in marketing automation as they have been massively adopted worldwide and are eating into email and SMS usage. Moreover, as email has a very low usage in China, e-commerce businesses looking to develop their sales in this market have to look into other channels to accompany the customer along the customer lifecycle.
Scoring and predictive models
E-commerce websites are accumulating a tremendous amount of customer data. E-retailers may leverage this data to set up scoring mechanisms and predictive models, and thus optimize omnichannel marketing programs across channels along the customer lifecycle. Basically, this scoring helps them identify the right channel, the right moment and the right message to deliver to the right segment. Predictive analytics also allow businesses to rationalize marketing automation investments, by identifying the most profitable customers and channels and accentuating marketing efforts on customers and channels that generate the best ROI.