JAKALA, a portfolio company of Ardian Buyout, acquires a significant minority stake in CLEVER AGE, to offer a broader ecosystem of services and optimize the benefits brought to our customers by focusing on omnichannel transformation.
CLEVER AGE transfers its minority stake (along with founders and employee shareholders) from Ardian Growth to JAKALA, a well-established MarTech company founded by Matteo de Brabant, to expand its leadership on omnichannel consulting and enterprise architecture on the European market.

MILAN & PARIS, MARCH 15, 2022 | CLEVER AGE, a French technology company with more than 350 professionals and one of the leaders in the field of e-commerce and the entire digital production chain, is strengthening its international presence through a partnership with JAKALA, one of Europe's largest MarTech players and a portfolio company of Ardian Buyout, with over 1,300 professionals and over €300 million in revenue.
Accelerating our customers' transformation requires business partners who can:
Offer a "Consulting To Delivery" approach to commit to results.
Offer a range of One Stop Shop services to optimize team efficiency and reduce the dilution of responsibilities.
JAKALA & CLEVER AGE strengthen their position thanks to:
Expanding their mutual capabilities in Martech and Omnichannel Transformation Programs.
Their geographical complementarity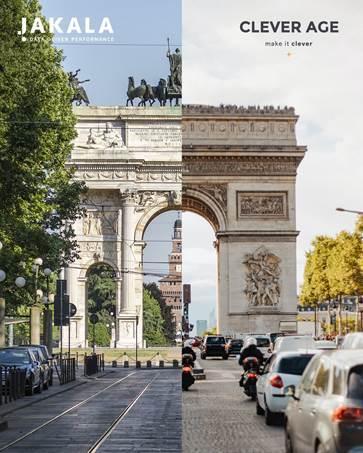 JAKALA and CLEVER AGE will together focus on e-commerce and omnichannel transformation, leveraging a comprehensive data-driven approach to drive measurable business results.
In addition, this partnership will allow both companies to access new geographies and new markets, thus promoting their growth. JAKALA and CLEVER AGE will offer unique solutions, tailored to client needs, leveraging integrated capabilities including strategy and advisory services, data analytics, AI, location intelligence, technology, UX design, content management and product data chain, as well as product information management.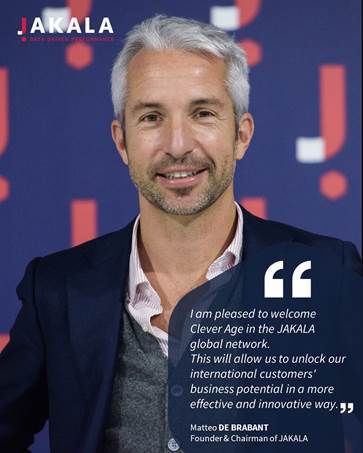 "I am happy to welcome CLEVER AGE to the JAKALA global network. The acquisition of a significant minority stake in CLEVER AGE represents a further step in our rapid international growth," says Matteo de Brabant, Founder and Chairman of JAKALA.
"This partnership will allow us to penetrate new geographies and new markets, offering a wider choice of services to our international customers in a more efficient and innovative way."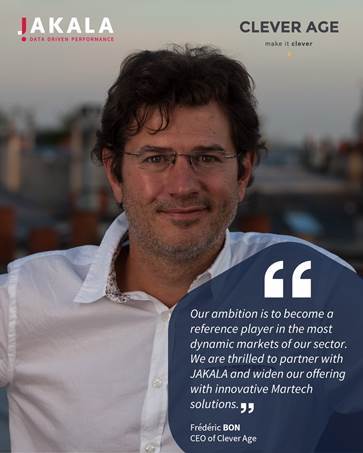 Frédéric Bon, Founder & CEO of Clever Age:
"Our continuous growth since the creation of the company in 2001 confirms the dynamism of our market and our ability to respond to it. Over the past 3 years, we have doubled in size both organically and through acquisitions. Today, CLEVER AGE must accelerate the fusion of martech and omnichannel skills in our respective native markets and JAKALA is going to be an accelerator. The partnership with JAKALA is also a wonderful opportunity to offer on international projects, an alternative to major competitors such as Accenture, Publicis, Deloitte… Born in the Internet era, our digital-native DNA is essential to remain a leader in the market. After this transaction, more than 30 employees are shareholders of CLEVER AGE alongside JAKALA as a minority partner. We are convinced of the employee shareholding model and will continue to encourage it".
---
About Jakala
JAKALA, one of the largest MarTech players in Europe, helps its customers unlock their business potential and create measurable business results, through a unique formula of strategy and advice, data, analytics, AI, location intelligence, technology, experience design and digital media.
Founded in 2000, the company has more than 1,300 professionals, with an average age of 35, and also divided by sex. The group has reached a turnover of 300 million and operates internationally with offices in 15 countries (in cities like New York, Madrid, Sao Paulo, Shanghai, London, and with headquarters in Milan).
JAKALA is a charitable company, which integrates the objectives of profitability with the principles of sustainability, with a
positive footprint on the ecosystem, and which releases the talent of its employees.
Contacts :
CLEVER AGE : Patricia BON – pbon@clever-age.com – Tel : +33 1 53 34 66 10
JAKALA : Alessandra RIZZI – alessandra.rizzi@jakala.com – Tel :+39 333 2968101