On August 16th, the 2015 Rogers Cup Tennis tournament was reaching a peak of intensity as Andy Murray had just won the title for the third time after an epic match against Novak Djokovic in Montreal and 18-years-old rising star Belinda Bencic was holding the trophy in Toronto after her victory in the women's final. It was so much fun watching those fantastic players during a whole week. It was also interesting to see how much focus the event's organizers and sponsors had been putting this year on digital, mobile and social media during the whole event.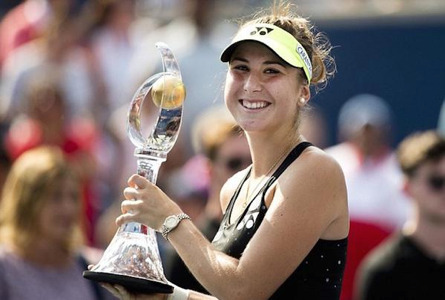 Reaching younger audience
Social media were everywhere. People were encouraged using hashtags throughout the event. A Twitter mirror was located in the tunnel where the players make their entrance allowing them to post selfies directly on Twitter. A Twitter TV booth was also giving fans the opportunity to take a #RogersCup selfie complete with tennis rackets and tennis balls. Rogers Cup has even taken to the Snapchat, sending live updates and behind-the-scenes footage of athletes to fans. Underlying business strategy was clear: changing the image of the tennis scene, opening it up and driving it away from its elitist image by engaging younger audience with the help of social media.
Successful mobile experiences require context
On the digital front, Rogers Cup website was also revamped, it is now sleeker, more user friendly and responsive. Having said that, it's on Tennis Canada's mobile strategy (the owner of the tournament) that I would like to put the biggest focus in this post. A mobile app was designed and launched before the tournament's start, emphasizing onsite user experience and integrating lots of contextual information. Context is key for a mobile strategy to be successful. Too many mobile apps out there are just "porting" website functionalities, structure and workflows to the mobile and the result is generally disappointing. Rogers Cup app did not fall into this trap. Among specific functions made available on the app, we can highlight the "Fan Passport" using a gamified approach incenting fans to visit specific places around the grounds with special check-in stations to collect stops on their passport and win prizes. The app also includes the ability to live stream matches from all courts in both Toronto and Montreal for guests who are on-site and fans can also capture their own aerial selfies through the flying "FanCam" overhead the Rogers Cup grounds and share images instantly on social media.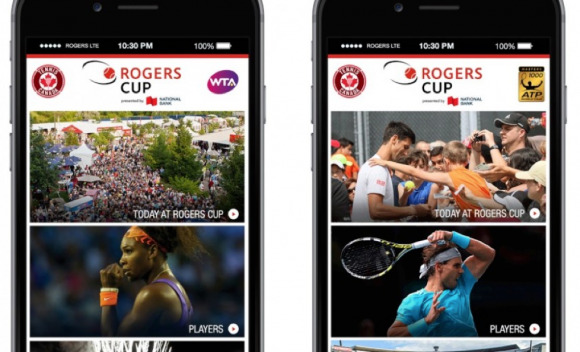 Best practices for your mobile initiatives
These few examples of "mobile engagements" designed by Tennis Canada's digital teams are very representative of some of the best practices we've been recommending to our clients engaged in mobile initiatives. A few of them are listed below:
Act now!
A mobile revolution is taking place. We, as clients, citizens or employees, are expecting from brands we are interacting with or companies we are working for that they are present in our moments of needs, anytime, anywhere, straight on our mobile devices. We have made our revolution. We are ready. We are demanding. It is therefore essential that companies are making their own revolution too. For this to happen companies need a well-defined mobile strategy, a structured approach and some new governance practices.
Start from the client
Starting from the point of view of the client, then moving to the device and the applications, and eventually addressing the infrastructure needs for supporting the mobile engagement is the right way to go (and not the other way around, ie. starting from an existing application and its technical environment and just trying to "mobilize" it)
We recommend a four-steps iterative approach. Well implemented, it should allow companies to successfully engaging with their clients (or employees) on mobile devices: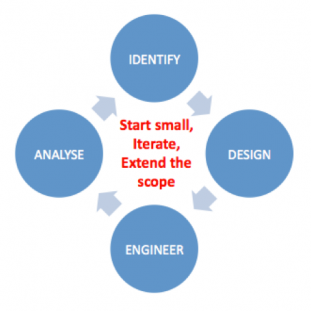 Step 1: identify the mobile moments
Mobile moments are multiple and everywhere. In order to identify them, a detailed analysis of the various relationships between the customer and the brand is required at every level of the organization. At the sales department, mobile moments are typically moments generating purchases from clients on their mobile devices, generally based on impulse. Even more important are the mobile moments that can influence sales (eg. Apps providing product information to the shoppers at the store). For marketing people, mobile moments will be those that will strength customer loyalty (eg. Starbucks payment app did not generate more sales per se but has greatly reinforced customer loyalty). Mobile moments can also be manufactured (eg. When a company does not have a direct relationship with the end-customer – typically in a B2B environment – some "useful" app targeted at end-users of the product or service may help connecting the brand with end-customers, generating positive feedback and improving company image. Borrowed moments are those moments associated to already existing mobile moments (eg. on social media such as Facebook or LinkedIn where a brand can buy a presence through sponsored updates or ad campaigns). Other mobile moments can be identified related to other parts of the organization such as the product department (ie. product "set up" moments, "in use" moments or "maintenance" moments). The list is long! In any case if you want to identify them all, you'll need to involve people from all departments in your organization. You also have to go out on the field and observe, collect data and understand how staff and customers interact.
Step 2: Design the mobile engagement
Among the multiple mobile moments and context information identified and catalogued at previous step – and before starting the design of the mobile engagement – you'll need to decide which mobile moments will be supported by some app (as you can't do them all). They need to satisfy the demanding customer but also they need to create enough value to your organization. Some structured prioritization process using scoring techniques will help setting the right priorities.
Step 3: Engineer the solution for mobile
This step goes well beyond the basic "app development" process typical of a tactical approach. It's a critical step that will consume most of your mobile budget. Following a structured approach starting from the client's needs will inevitably impact people, process, and technology, requiring some organizational changes, business processes transformation, or technology updates. This is the price to pay but it is probably also the only way to be successful in the long run.
Step 4: Analyze, measure, optimize
Collecting data and defining metrics are essential. Omitting to do this would be like driving a car without any instrument onboard. Information include app usage data, business data (sales, transactions), client related data especially location data, and performance data. Altogether they will help measuring the app's actual business value vs. what was planned and provide sufficient insights to progressively improve it.
Start small, iterate and extend
Finally, it is probably worth re-emphasizing that a mobile project requires multiple iterations. Starting small, then optimizing and progressively adding features and functionality will maximize your chances of success
The process, steps and recommendations as described in this post may seem pretty obvious, but still (too) many organizations are not applying them. We truly believe that they are key to a successful implementation of your mobile strategy. Clever Age can help you detail this approach, provide the required tools and help you implement it in the specific context of your organization.