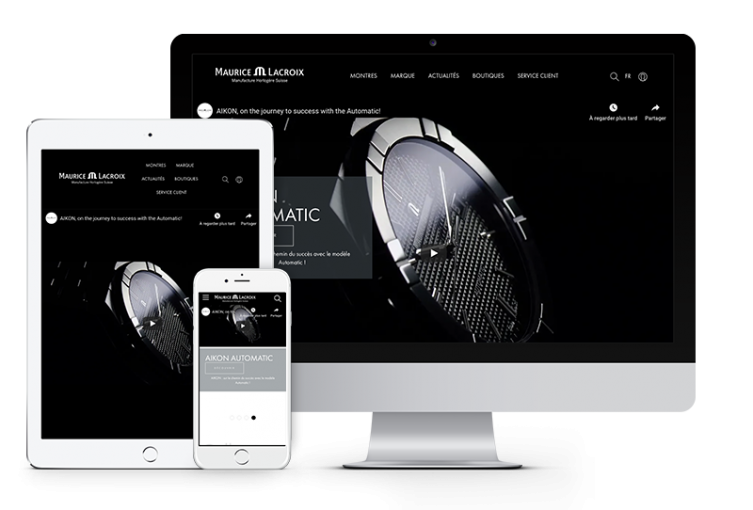 Context
Maurice Lacroix wanted to centralize its three existing websites (one for the US, one for Europe, one for Switzerland + the rest of the world) along with its corporate website.
The objective was to:
offer a unified selling platform allowing an easier navigation
increase sales on this channel
facilitate the opening of the platform to new distributors and new markets"
The choice was to move to Magento Cloud. Clever Age was sought to assist Maurice Lacroix in this project from end to end.
The project
The project was divided in three phases: a scoping phase for the functional and technical specifications, an implementation phase and an application maintenance phase.
1/ Scoping phase :
Training for Magento 2 and Atlassian project tools: conducted by our training organization Clever Institute
Functional study, UX and graphic creation
Technical study of target architecture
Final analysis for the restitution workshop: workshops summary, finalisation of budget and planning
2/ Implementation phase – A methodology suited to the project and teams
A methodology based on intermediary releases to spread the testing during all the development.
Launch of e-commerce platforms and 8 languages catalogs for the US, Switzerland, Europe, Middle-East and the rest of the world.
3/ TMA
Since the launch, the project has been put under Third Party Application Maintenance to handle evolutions and keep assisting the teams.
The outcome
Creation graphic, functional and technical of a Magento e-commerce website for the five regional business units: Switzerland, the US, Europe (without Switzerland), Middle East, rest of the world (Russia, Asia, …).
The implemented website is responsive.
It is available in 8 languages:
English
German
Spanish
French
Japanese
Russian
Traditional Chinese
Simplified Chinese
Key takeways:
Collaboration around 3 main phases: scoping, implementation and application maintenance
E-commerce solution ECE Magento 2 in order to cover technical and functional needs of the project (this ECE version of Magento was validated during the scoping phase)
A team of e-commerce experts