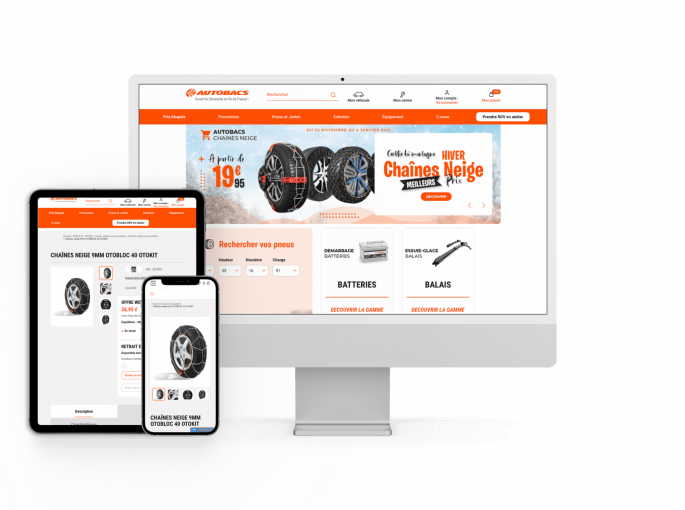 CONTEXT
Autobacs is one of the most unique companies in the French automotive equipment and aftermarket retail industry. The company belongs to a leading Japanese group in its market and has about ten stores in Ile de France, characterized by their imposing size. Its strength lies both in the diversity and depth of the product ranges offered to motorists, both on its website and in its stores, with the most recognized equipment brands, and in large workshops capable of maintaining and equipping vehicles of all brands 7 days a week, with appointments available on www.autobacs.fr.
Clever Age had previously collaborated with Autobacs by developing its e-commerce platform, which was designed to offer a simple and intuitive online shopping experience for Autobacs customers, while integrating content, catalog, and ordering management features.
CLIENT REQUEST
Autobacs confirmed its desire to continue this partnership with Clever Age by choosing to migrate its pneu.autobacs.fr site to autobacs.fr, while reviewing the UI/UX interface to improve the customer journey. The goal is to offer a smoother and more intuitive e-commerce experience for its customers, while optimizing sales conversion and strengthening its online presence.
PROJECT DESCRIPTION
Solution choice: For this project, the choice of solution immediately fell on Proximis. Autobacs can thus centrally manage its various sales channels and improve the customer experience.
Improved UX journey: The customer journey has been reviewed and improved to highlight the various services offered by the workshop. This involves a thorough study ofthe user experience to identify the strengths and weaknesses of the current design.
Display of a double tire list: This feature allows the display of the tires available in the customer's favorite store first. Then, the list of available products is displayed based on supplier warehouses. This allows users to see a wider range of available products while keeping their reference store in mind. This method offers personalized choice as it takes into account user preferences and purchasing habits.
Custom search block: A custom search block has been set up on the homepage. It allows users to filter results based on specific criteria such as dimensions, load, season, brand, price, etc. The readability and clarity of the display are improved.
Horizontal facet: A horizontal facet filter has been set up above the tire listings. Like the custom block, the search is facilitated by quickly selecting the desired criteria.
SEO porting: Improvement of the site's visibility and its ranking on search engines. This step is crucial to reach a wider audience and increase site traffic.
RESULTS OBSERVED
After switching to Proximis, Autobacs observed a significant increase in its online traffic and an increase in orders placed on the site. This improvement is due to the centralized management of orders and stocks, as well as the optimization of the user experience.