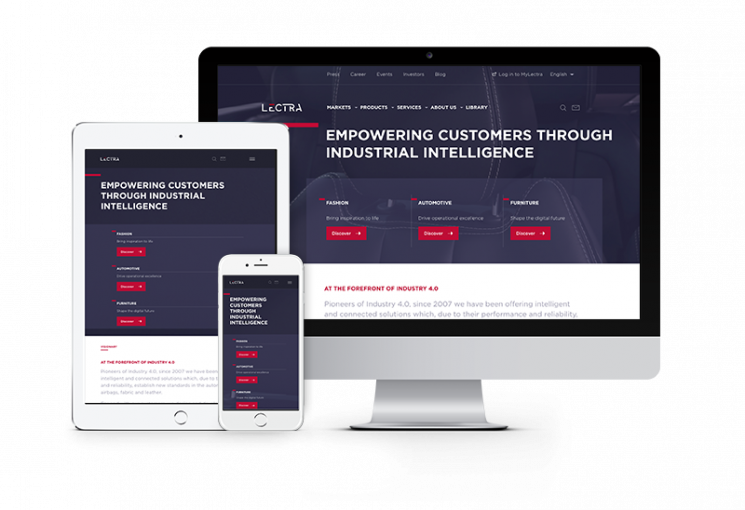 BACKGROUND:
Lectra is a French company that develops automatic cutting systems (fabric, leather) for the automotive industry (seats, airbags), fashion (lingerie, jeans, etc.) and furniture (sofa, armchairs, etc.). It also markets software for designing patterns and for using these automatic cutting systems.
Lectra has chosen Clever Age to become the digital partner for the coming years, starting with the redesign of lectra.com, the flagship site that presents the group's activities.
CLIENT REQUEST:
Increase the quality and quantity of leads generated by the digital channel
Increase site traffic
Position Lectra as an online leader
Simplify the presentation of Lectra and its solutions
Implement the new identity on the web (logo and colours)
Streamline the digital device by reducing the number of sites and focusing efforts on lectra.com
Simplify and improve the back office for users
Build the site with Lectra IS (Marketo …)
PROJECT DESCRIPTION:
SCOPING:
The scoping phase resulted in the technical redesign (excluding graphic design) in Drupal 8.
Intervention of a Chinese consultant in China Lectra entity in Shanghai to validate if the CN site could be a simple variation of .com or if it was necessary to operate a site that was quite different in terms of ergonomics/design to match Chinese customs and habits.
PROJECT:
Agile methodology
Development:

Drupal 8
Bridging with Marketo brick + development of a specific module on D8 for forms integration
CDN on the whole Front (amazon cloudfront)

Digital marketing: Tagging plan integration