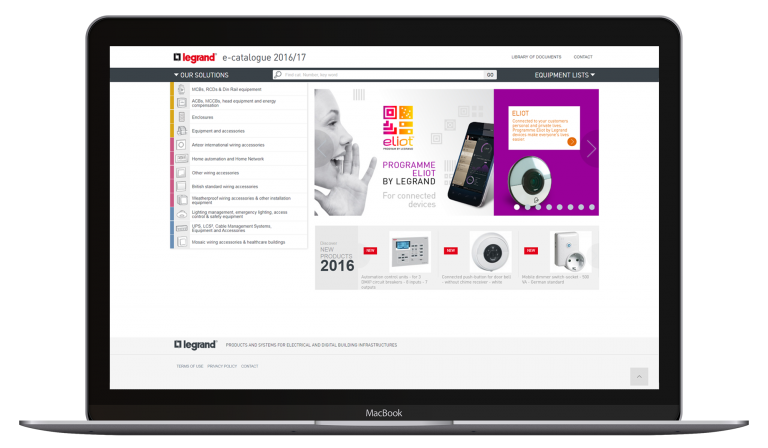 Legrand is the global specialist in electrical and digital infrastructure for the building industry, offering a comprehensive range of products and systems for control interfaces, cable management, power distribution, voice/data/video integration. Legrand's services are tailored to commercial, industrial and residential markets around the world, making the group an international leader in the field. Legrand markets its products through internationally renowned generalist brands such as Legrand and Bticino, as well as specialist or local quality brands.
Close to his market and customer-oriented, Legrand has facilities in over 90 countries and sells a broad selection of around 190 000 products in almost 190 countries.
Background :
Legrand has several online catalogues, each one dedicated to an international market. Internally, the online catalogue serves as a centralizing tool for product information.
The online catalogue primarily aims to:
provide customers with relevant, comprehensive and updated product information;
facilitate research and access to product information;
make it easier for Marketing Communications teams to update information;
render information available any time, anywhere;
serve as a commercial reference for all stakeholders;
bring value-added to customers through useful, practical features (e.g. costing tool, technical data);
increase the visibility of Legrand's product offer on the Web.
Our mission
Legrand commissioned Clever Age to redesign its online catalogue and its content import/export processes. We carried out the project using Magento Enterprise Edition to integrate the products of the group's various brands.
We also created a mobile website to improve user experience.
The primary objective of the project was to replace the former Magento front and back-offices in order to streamline the process of online publication.