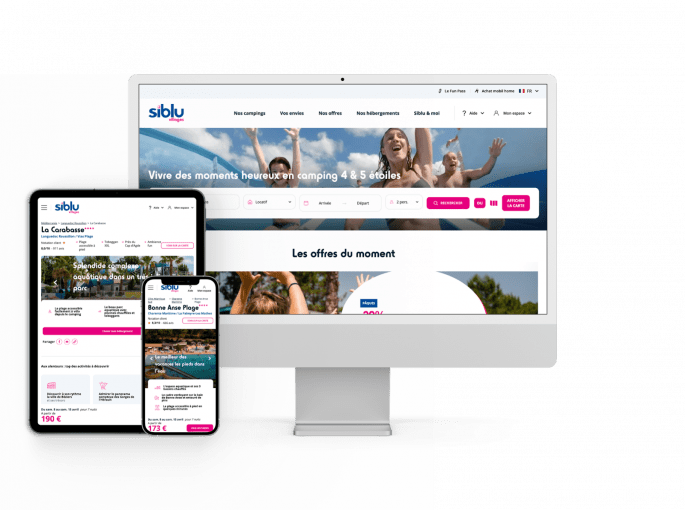 BACKGROUND
Siblu, founded in 1975, is an open-air hotel group with a high-end positioning, operating 29 campsites in France. It operates in 3 business lines: mobile home sales, plot rentals and seasonal rentals.
Their strengths :
Competitive prices
A commitment to sustainable development (using renewable energy sources and limiting environmental impact)
Services and activities for all (swimming pools, sports fields, entertainment, restaurants and bars)
Focus on customer satisfaction
CUSTOMER REQUEST
Clever Age was asked to carry out a "technical photo" audit of the current platform, focusing on its stay rental offer.
Following on from this audit, Siblu expressed a desire to redesign the vacation rental site.
The upscale camping chain once again called on Clever Age to carry out a scoping mission: in fact, it is essential, prior to the implementation phase, to define the site's functional requirements, prioritize each functionality and define a technical architecture capable of meeting all these needs.
PROJECT DESCRIPTION
The scoping phase was a key step in ensuring the success of this project.
Objectives:
Understand Siblu Vacances' e-business challenges
Identify the functional requirements of the e-Commerce activity
Define the necessary technical architecture, taking into account existing IS constraints
Evaluate 2-3 solutions according to pre-defined criteria, and recommend the most appropriate one
Define the framework for the next phase(s), in order to move forward serenely with the implementation project.
After careful consideration of the choice of future platform, Drupal was finally selected to manage the 5 vacation booking sites (FR, DE, GB, IE, BL). Reduced costs, faster, more secure deployment and data centralization, among other things, were the main reasons why Clever Age chose this solution.
Clever Age has developed a completely new user interface, with a modern, secure order tunnel, enabling it to select a custom location and choose from a multitude of personalization options.
The project also included support in setting up a new technical infrastructure.
This overhaul enabled us to :
Propose a new customer path to facilitate and improve booking and the user experience.
Deploy advanced tourism content
Improve the pace of bookings
Add payment in 3 or 4 installments, free of charge, with Floa Bank (the French leader in payment facilities, based in Bordeaux, France).
RESULTS
As soon as Siblu's e-Commerce overhaul went online, the number of bookings increased and the conversion rate improved significantly.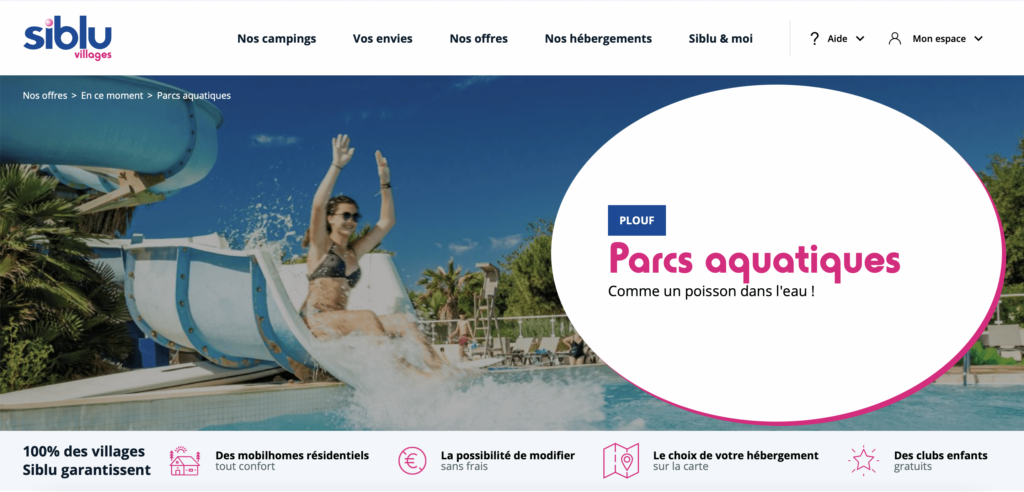 AWARD
Siblu won first prize in the "Outdoor Accommodation" category at the 14th edition of the Travel d'Or™ awards ceremony, for its stay/holiday rental business.