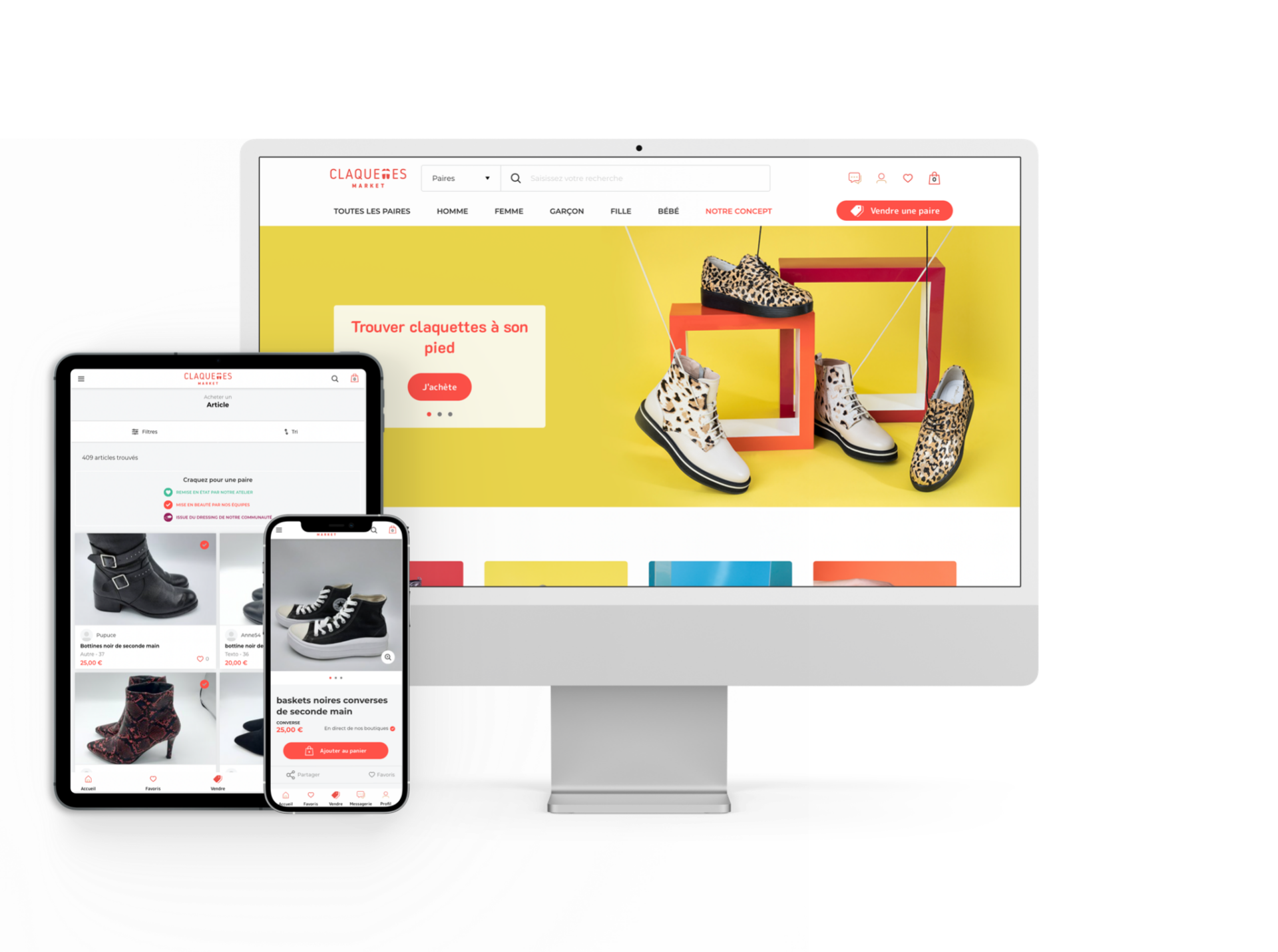 CONTEXT
Eram is a French shoe company created in 1927 and which is now present in more than 30 countries. It offers a wide range of shoes for men, women and children, as well as accessories (bags, socks, …).
Eram wishes to launch itself in the new responsible trend of second hand.
CLIENT REQUEST
Eram consulted Clever Age to set up the first second-hand marketplace dedicated to 100% French footwear for their Claquettes Market brand.
Claquettes Market offers 2 ways to sell:
The Claquettes label: The seller drops off his pair in the store. The team in the store takes care of everything: hygiene, beauty, writing and putting the ad online, and even shipping.
The Market offer: The seller is autonomous and manages his sale from A to Z. He takes the pictures, writes the ad, puts it online and takes care of the shipment of his package.
PROJECT DESCRIPTION
Drawing on the know-how and expertise of the Group's brands (Eram, Bocage, Mellow Yellow), Clever Age has proposed a service that simplifies the second-hand experience. This marketplace is the first platform dedicated to footwear that offers a unique concept.
"The 1st marketplace that offers a second life to shoes"
The stakes of this project:
To fight against waste: putting on sale reconditioned products
To propose a "turnkey" service for the seller (simple deposit of the pair in the store) or in autonomy on the platform
Enable the sale of products that are not part of the initial sales circuit and come from Eram warehouses (B2C)
To allow the remuneration of the salesmen in abundant purchase vouchers
To train stores in the use of the back-office
The management of bonus vouchers allows individual sellers to recover the amount of their sales in the form of bonus vouchers from Eram (+30%).
With the integration of a B2C brick that manages the inventory of Eram's warehouses, Claquettes Market allows the brand to sell unsold and refurbished pairs. This frees up space in its warehouses to stock new items and reduces the financial losses associated with the non-sale of these items.
Starting in April 2023, customers will be able to reserve a pair of shoes on the online platform of Claquettes Market. Once they have made their reservation, they will be able to go to the store to pick up their order. Customers will be able to pay for their purchase directly when picking up their order in the store, which will give them additional flexibility in paying for their order.
OBSERVED RESULTS
Three key aspects were measured following the launch of this B2C site: reaching the intended target, the number of sales generated and the performance of the platform.
These criteria met the objectives set and allow us to foresee the promising beginnings of this new platform!