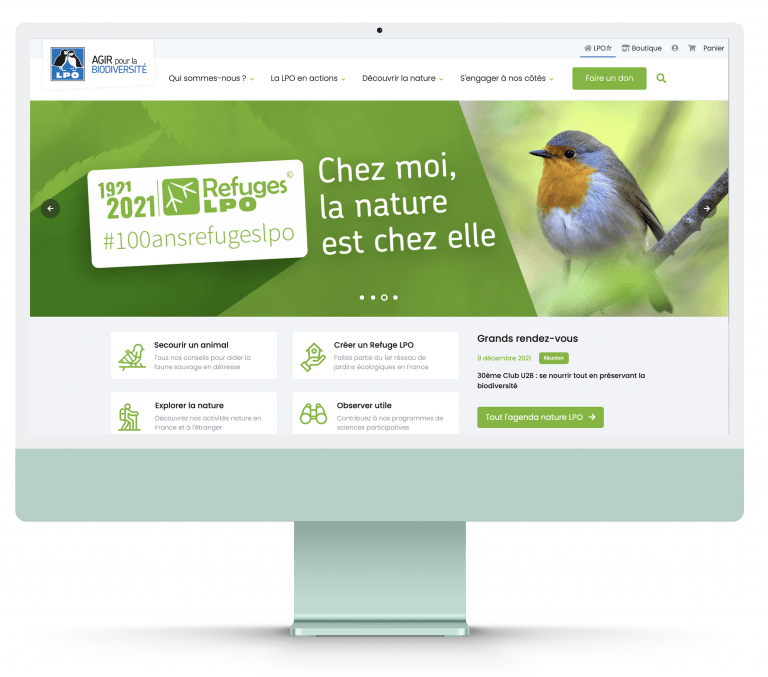 CUSTOMER CONTEXT AND PRESENTATION:
We had the pleasure of supporting the LPO (League for the Protection of Birds) in its digital transformation with the redesign of its IS / Web system.
The LPO is an association under the 1901 law, recognized as being of public utility, which aims to protect birds and the ecosystems on which they depend. Financially, the action of the LPO is based on a balance between private funds (donations, bequests, sponsorships, services, etc.) and public funds (subsidies, a delegation of public services, etc.). This balance is the guarantee of its financial independence. The strength of the LPO lies in its territorial coverage and its local network allowing the involvement of many citizens in the actions and fights led by the association.
CUSTOMER EXPECTATIONS
Here is the initial request from the LPO:
Redesign of the institutional site to bring together hundreds of diverse and varied sites
Provision of a collaborative communication platform serving the strategic priorities of the LPO (commitment to biodiversity, citizen mobilization, knowledge sharing, consolidation of the LPO network and the readability of the various factions of the LPO 'association)
Implementation of an efficient and coherent Digital information system, based on current web quality standards, useful to management teams and focused on the needs of Internet users
THE MAIN STAGES OF THE PROJECT
A transverse preliminary scoping phase was necessary to define the technical and functional architecture and to produce a macro-costing of the implementation of the redesign.
Following this scoping phase, we concluded that it was necessary to set up a PIM (Product Information Management) with PIMCore technology, a data synchronization brick with the ERP of the IS LPO, an institutional site with Ibexa technology, and a customer area under SymfonyTM / Sylius.
For each of these projects, here are the main steps:
UX/UI design: the creation of a "digital" graphic charter and composition of the different screens necessary for the project
Functional and technical specifications
Back and front development
Functional and technical acceptance
RESULTS
Here are, in a few points, the first results of our intervention:
Management of more than 300,000 Internet users on the customer area
Synchronization of more than 1 million data
The overhaul of the IS/Web system has made it possible to bring together the hundred or so diverse and varied sites of the LPO on a single platform. It allows, via a unique identifier, access to the various factions of the association: membership, donations, subscriptions, magazines, refuge, and shop.
A much smoother journey and experience for Internet users
The LPO's institutional site and customer/supporter area went online in October 2021. The project continues to evolve with the redesign of the store and the implementation of the data repository (PIM) as well as various developments as part of the TMA market.