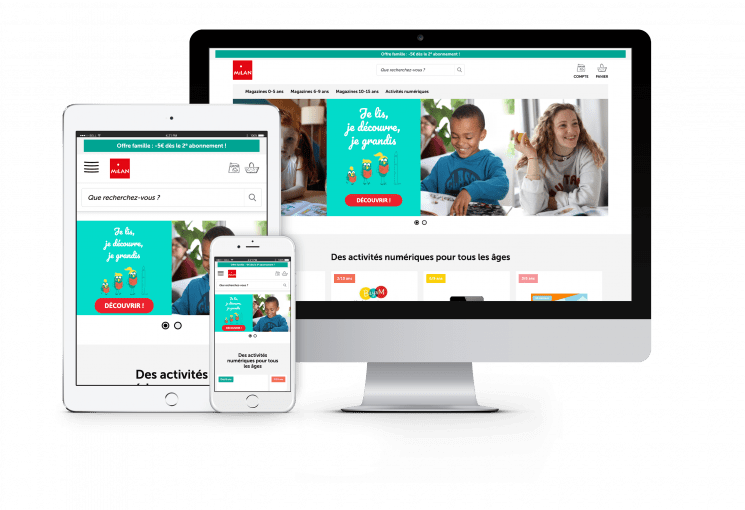 CONTEXT
Bayard Group is a french press company since 1870. The group has an international presence and proposes a diversified offer through a multitude of topics : news (La Croix, Le Pélerin), youth press (J'aime Lire, Youpi…), senior press (Notre Temps), religious (Prions en eglise) and nature (Terre Sauvage…).
The press sector is facing a huge digital transformation. With its expertise, Clever Age has supported Bayard in this digital turn and allowed them to target and expand its audience.
Bayard has chosen Clever Age to support the redesign of its e-commerce site (transition from Magento 1 to Magento 2) with a technical foundation common to all group's brands, and carried out a graphic refresh of its websites (adult and youth) under Magento 2.3.
CUSTOMER REQUEST
The Bayard Management Board has requested Clever Age to redesign the e-commerce foundation for all their sites.
The technical foundation had to be common to all group's brands and very flexible to allow versatility for the day-to-day commercial operations (seasonal promotions, combined offers, addition of new items…) without requiring heavy and long programming for Bayard teams.
Each brand must be able to release its own site without the need for back-end adjustments, as they have the same technical base.
BAYARD PROJECT EXECUTION
The project started with a discovery phase: numerous discussions with the client, iterative workshop achievements, validation steps…

And then the implementation phase:

Magento 1 to Magento 2 replatforming of the current e-commerce solution in order to provide a healthier and more flexible technical foundation, common to all the brands
Introduction of Talend to manage the data flows between the brand's e-c0mmerce websites and the brand's legacy technical components managing the orders, customers, subscriptions, …
Introduction of Keycloack

to manage the brands' SSO/ SLO. For example by logging into Milan, we will automatically be logged into Bayard.

Implementation of a custom made

multi-recipient checkout on Magento 2 in order to have several products in your basket for different recipients. Implementation of a specific tool for monitoring the data flows and re-processing failed orders (in Symfony 4)
Implemented specific price management in order to handle various subscription models ( per month, per quarter, free, one-off purchase, or a combination of all). This feature is not native to Magento subscription plans are not supported out of the box.
Improvement of the mobile conversion rate
Improvement of the time spent on contribution
Conducted change management of Bayard teams throughout the project in order to operate independently on the major daily tasks.
Deployment of a simplified customer journey (from product to order taking) leveraging a common API to facilitate its use on an editorial site, non-e-commerce
Improvement and modernization of all Bayard sites

Milan Jeunesse is online since January 7, 2020

Bayard Jeunesse is online since February 18, 2020
RESULTS
Bayard Jeunesse: 1 order every 2 mins
Milan Jeunesse: 5 orders per hour
These 2 websites generate 80% of the Bayard Presse group's web turnover.